(Drama/romance, 10×60 min.) At 30, Fang Chia-ying breaks up with her boyfriend. Despite saying being single is wonderful, she longs for someone deep down inside. When she meets Ting Chih-ming, who believes "everyone in this world is lonely," everything changes. Is being single a good thing? Or is having someone in your life better?
Production Company: Polyland International Entertainment
Represented By: Chinese Television System—Chinese Television System (CTS) is a key terrestrial TV channel in Taiwan for 47 years. As a leading TV channel broadcaster, CTS is famous for its high-quality programs, and it has won numerous awards. After joining Public Broadcasting System, CTS has concerned itself more with public interest of civil society, producing programs with quality, modern tech and creativity. Facing the trend of media convergence, CTS strives to provide the most responsive and trustworthy info-communication services for Chinese communities, delivering the best contents and services throughout the local and global audiences.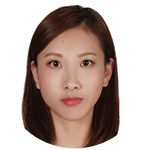 Sales Contact: Sharon Wang